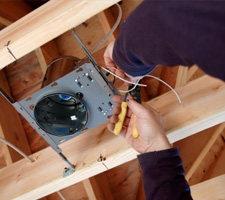 About Wilson Electric
At Wilson Electric, every job is performed by experienced, professional and attentive service technicians and receives the personal attention and supervision of our management team to ensure that it is properly scheduled and installed. We work closely with architects and general contractors to ensure that all projects are completed as they have been designed.
Our work is guaranteed against defects in material and workmanship for an entire year. When you engage Wilson Electric for your electrical installation project, you enjoy the peace of mind that comes with knowing that your project will be properly installed and that we stand behind our work. We know you will be pleased with the result.
Free consultations available. Call 203-359-1200, or contact us online.
-
Yahoo! Local Listing
Serving Fairfield County, CT and Westchester County, NY. Service areas include but aren't limited to Stamford, Greenwich, New Canaan, Darien, Norwalk, Westport, Conn., and Armonk, New York.